The Internationaler Bund (IB) Group
With almost 14,000 employees, the Internationaler Bund (IB) is one of the large service providers in youth, social and educational work in Europe. Its motto is Strengthening Being Human.
The IB has established more than 700 facilities and branches in 300 locations worldwide, helping 350,000 children, adolescents, adults and senior citizens every year with their career and personal planning and offering a wide range of services. The IB-Group is politically non-aligned and non-denominational. Helping people to develop in freedom, to shape their own lives, to integrate into society, to take on personal responsibility, to actively help shaping the development of society, to encourage the willingness for social support to the individual and the society, to promote international understanding and cooperation have been core elements since its foundation in 1949 and have remained valid to the association ever since.
Executive Board
Chairman of the Board
Thiemo Fojkar
Thiemo Fojkar has been Member of the Board since 2009 and became Chairman of the Board on 1 January 2013. The graduated pedagogue was among others educational advisor of the Federation of the Metal and Electrical Industry Baden-Wuerttemberg as well as Managing Director of the BBQ Berufliche Bildung gGmbH (BBQ Vocational Education is a nonprofit limited liability company) and the Apontis GmbH Gesellschaft für Personalentwicklung & Personale Dienste (Apontis is a limited liability service company for human resources development and personnel services). In addition, he was Managing Director of the Bildungswerk der Baden-Württembergischen Wirtschaft e.V. (an education center founded by the Baden Wurttemberg Commerce Organization).
Members of the Board
Karola Becker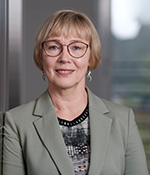 Karola Becker is a qualified social pedagogue and has graduated in business administration. She has been working for Internationaler Bund (IB) since 1991 where she started as a director of IB Hirschfelde (Upper Lusatia). During this time she expanded the location in Hirschfelde into a rehabilitation facility and established a vocational school carried by the IB. From 2005 to 2013 she was the Managing Director of IB Dresden and became Managing Director of the IB Beteiligungs-und Verwaltungs-GmbH in 2011. In her role as a managing director, she carried out several structural reforms in Saxony and expanded the range of IB activities in the region and abroad promoting the international activities of IB.
Janine Krohe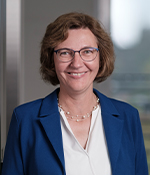 Janine Krohe has been with the IB since 2020. Previously, the business administration graduate worked for an auditing company and in the finance department of a hospital group. At the IB, she initially worked as Managing Director of the Finance/Accounting/Controlling department in the Central Management, and since October 1, 2022, she has been a new member of the IB Executive Board. She succeeds Stefan Guffart, who will leave the IB on March 31, 2023 for reasons of age.
Open mail program (if configured) or show email address